Machine Tool Design - Special Purpose Machine
The course is structured from Design fundamentals to final machine tool design. A real-time project will be carried out from concept to final design. Design Concept, 3D Part Modeling, Assembly Modules, CAD Tool, and Manufacturing Drawings Accuracy, Design for Manufacturing and Design for Assembly will be addressed during the course. It will be highly interactive and hands-on training sessions.
FOCUS AREAS
Training on CAD SOLIDWORKS
Hands-on training Manufacturing drawings and practice
Tolerance and GD&T – what why and how
Engineering basics SOM and EM – Refreshing from a designer point
Kinematics of Machines – A refreshing from a designer point
Introduction to CNC machines GPM and SPM
Cutting tools and selection
Engineering materials – Insight and selection
Design of metal cutting Special Purpose Machine – Project
Overall design concept, Machine specification
Design of Spindle for milling
Design of Linear servo slide & Hydraulic Slides
Selection of Ball screw and LM Guides
Selection Anti-friction bearings
Selection of motors
Hydraulics and pneumatics
Design evaluation for bearing life, spindle stiffness, critical speed and inertia
Introduction to Electronics and Electrical for Mechanical
Design of machine structure
Overview on coolant system and lubrication system
Hands-on Experience on FEA Tool
Industry Visits
Key Take Aways
Confidence in Machine Design
Confidence in Manufacturing drawings par industry
Intensive know how on the design of machine elements
Design thinking
Problem-solving skills
Strong in engineering basics
Hands-on experience in Machine Tool design – GPM / SPM
Knowledge in systematic design approach
Technical competency for the manufacturing industry
A Certificate of participation based on the performance
Placement support across manufacturing industries
Benefits
Industry readiness
Better employability quotient
Higher confidence in machine design task
Higher probability to link in manufacturing companies
Participant Profile
This programme will benefit graduate and postgraduate engineers, Diploma holders with a mechanical background and industry fresh hires.
Faculty
This programme will be conducted by Mr. H V Rajashekara, Advisor - Design Institute, IMTMA. He has over 35 years' experience on Machine design and development from HMT Bangalore and Johnson Electric Group, Hongkong. In addition, he has 7+ years' experience from Training domain at IMTMA.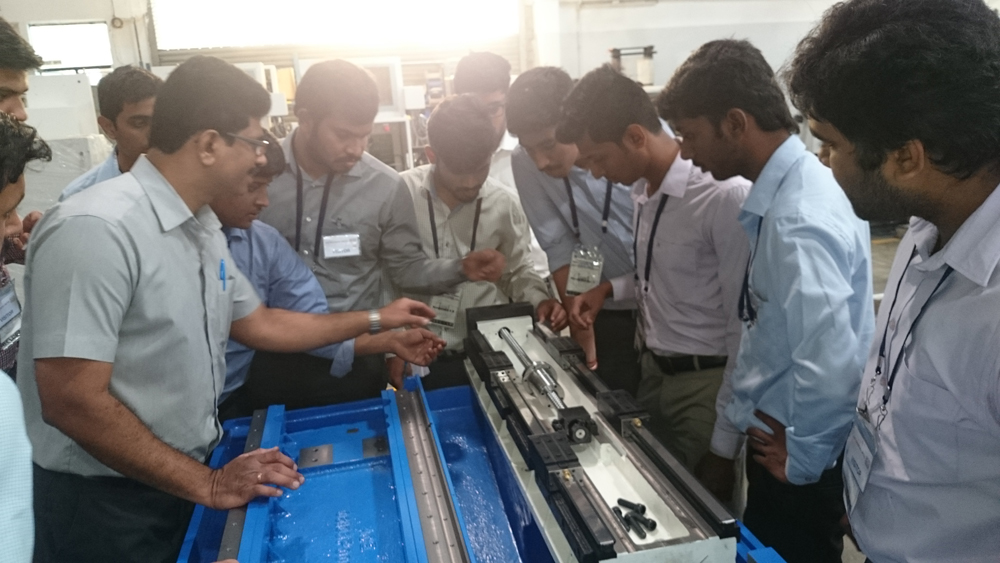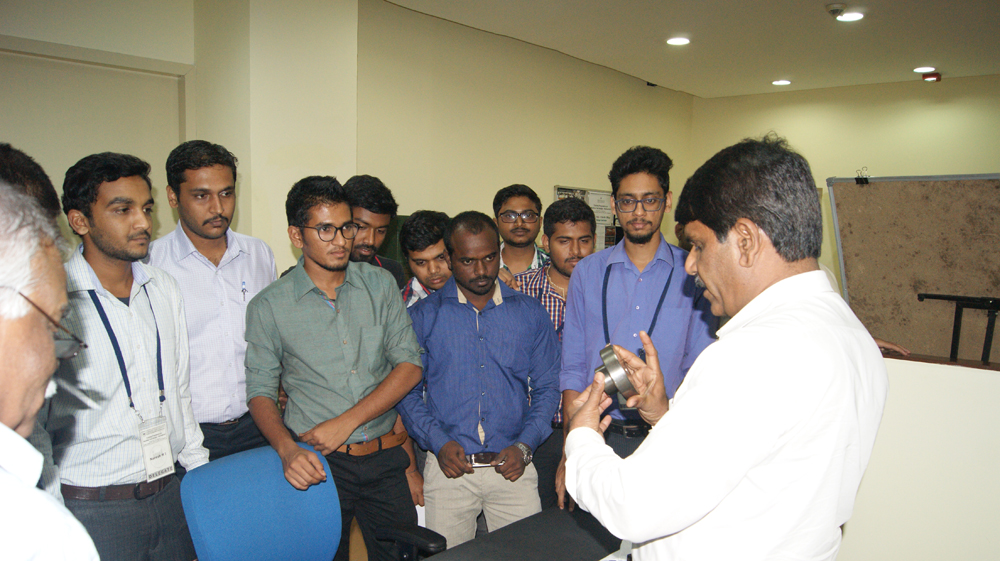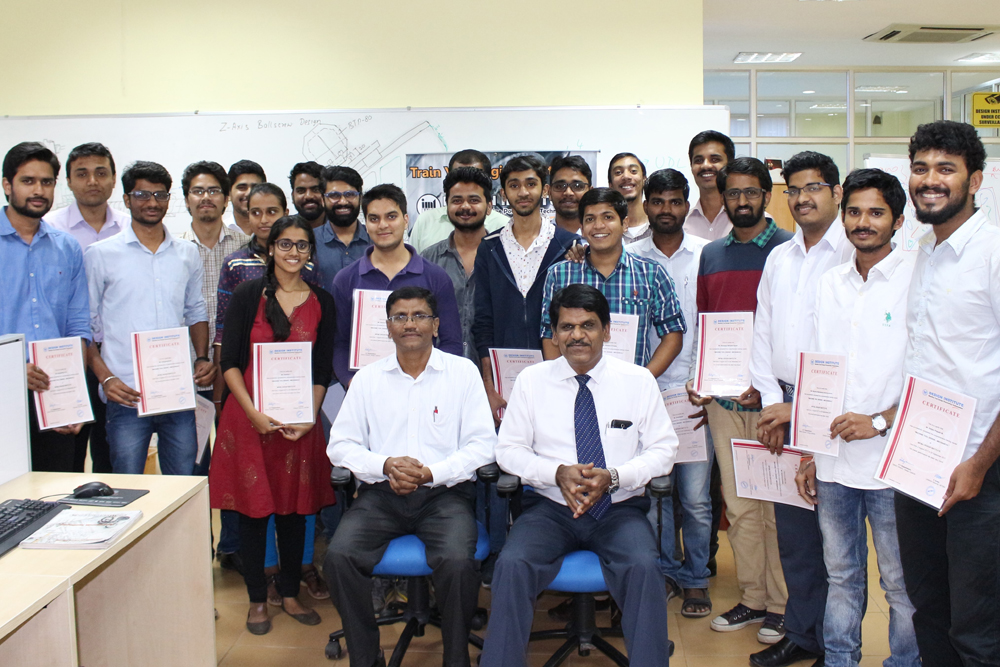 Control System Design for Machine With PLC & SERVO
IMTMA understanding the importance of enhancing the skill set for engineers to adapt themselves for the new challenges in the industries for Machine Automation. The prime objective of the program is to develop the skillset on Control system Design for Machine Automation.
Participants will undergo rigorous hands-on training on all aspects of application and made to work on two real-time
Projects on CNC & PLC based automated machines. Besides, they will be trained on soft skill to develop the personality, work attitude, collaborative working and presentations skills.
The course will surely develop an effective skill set with confidence and make them "INDUSTRY READY for MACHINE AUTOMATION ENGINEER". This enhances the employability quotient and earn a job in manufacturing industries by their wisdom.
Focus Areas
Electrical Engineering fundamentals implementation.
Electrical Switchgear elements, Motor circuits, PLC Circuits, Safety Circuits - Hands-on training
Components selection for machine control, drives & Motors
Electrical switch gear elements
Introduction to PLC programming & Ladder diagram
Introduction to CNC technology
Electrical circuit design
E Plan software Training
Control system Design for Machine Automation – Real-time projects.
Design of Electrical Panel / Cabinet / Operator pendent.
Machine Interfacing & Commissioning
Industry Visit
Key Take Aways
Hands-on experience of control system design for machine
Electrical circuit design
Selection of Components and Design Documentation
Knowledge on PLC Programming
Knowledge on Drive Parameterization
CNC Machine Programming
Benefits
Comprehensive Knowledge of Machine Design Aspects
Hands-on Experience Control System Design
Hands-on Experience on Design Documentation
Knowledge on PLC Programming
Knowledge on CNC Interfacing
Participant Profile
Fresh Graduate Engineers & Diploma engineers in Electrical & Electronics and Mechatronics stream
Fresh Hires from industry with < 2-year experience
Faculty
Mr. H V Rajashekara, Senior Director, Design institute, IMTMA, he has over 27 years of experience in Machine Tool design and development from HMT Machine Tools, Bangalore.
Mr. L Gopi He has acquired immense experience in Design & Automation Systems for Manufacturing process and machines.
Mrs. Uma H N, served HMT for 25 Years has electrical Engineer at R & D dept, and a consultant for many industries presently
Mr. Shivanand, consultant, Entrepreneur having experience of 35 Years in the field of Manufacturing, Marketing, Design, Production, Project Execution of various Electrical Control Panels, he has Trained more than 6000 Electrical Engineers.
Mr. HariBabu from M/s Mitsubishi India will be addressing on controllers, PLC & Programming.
Mr. Nagesh from TECEL MARKETING will be addressing on CNC systems & Programming
Mr. Bhuvanesh / Mr. Naveen from RITTAL INDIA on E Plan design software & Documentation.
Mr. Anil Purohith from M/s Leonardo Automation who has over 25-years experience in Machine tool electronics and PLC Programming.
Finite Element Analysis and Optimization
The Finite Element Analysis is a powerful engineering analysis and has been widely used in engineering since 1950. The course "Finite Element Analysis and Optimization" is a 6 weeks comprehensive programme for fresh mechanical engineers who are aspiring to build their career as CAE Expert in product manufacturing domain
This training presents the theory and applications of the Finite Element Method using ANSYS/HYPERWORKS. ANSYS Mechanical / HYPERWORKS are the FEA tools that are widely used across the manufacturing domain for analyzing and solving complex mechanical problems. These tools are used to predict the behaviour of the components and sub-systems in the manufacturing and real-world environments. These soft wares globally supports engineering simulation solutions by delivering high-quality products developed in lesser time through more information-based process. This course teaches FEM concepts and tool use in an integrated fashion.
FOCUS AREAS:
Basics of Finite Element Methods (FEM)
Basic & Advanced Solid Modeling
Hands-on Training on ANSYS and HYPERWORKS
Method of Import and align the geometry
Making of geometry for FE modeling
Generate shell-mesh & solid mesh with 2D and 3D elements
Create & modify various geometric-entities
Introduction to Static Structural Analysis
Hands-on training on Structural Analysis
Advanced Structural Analysis (Dynamic, Nonlinear & Thermal)
Generating The Report Of Analysis
Typical live project exercise from Automobile, Machine Tool, and Industrial machinery
Revisiting of mechanical engineering fundamentals ie. SOM, Mechanics and Materials science
Training on CAD modeling, manufacturing drawings, GD&T, Design of machine sub-assembly and structures.
KEY TAKEAWAYS:
Strong theoretical understanding of FEM
Application of FEM to practical engineering problems
How to perform engineering simulations using ANSYS
Structural mechanics simulations using ANSYS Mechanical
Mathematical models underlying simulations
Building simulations of real-world applications
Verification and validation of simulations
How to approach engineering analysis and simulations like an expert
Efficient modeling techniques
FEM competency to enter manufacturing companies as FEM expert
PARTICIPANT PROFILE
Participant Eligibility
Fresh graduates with an aggregate score above 70% or equivalent CGPA from BE or B Tech, ME or M Tech.
IMTMA Design Institute admission test score above 60%.
Fresh hires from industry to acquire FEA/FEM skills and the above admission criteria may not be a compulsion.
6th or 8th-semester students can also participate, satisfying the above criteria.
Who can participate?
Fresh graduates from BE or B Tech, ME or M Tech. (Mechanical / Aerospace & Automotive Engineering)
Fresh hires from industry to acquire FEA/FEM skills
Working Design professionals
6th or 8th semester students can also participate.
FACULTY
This programme will be conducted by Mr. H V Rajashekara, Sr. Director - Design institute, IMTMA. He has over 34-year experience in Machine Tool design and development from HMT-Precision machinery division Bangalore and Johnson Electric Group, Hongkong.
The programme is supported by various industry FEA/FEM experts Mr. Mangesh Ketkar, Mrs. Swathi Athwale, Mr. Bharath and K Rao from various Industry domains.
DESIGN FOR ADDITIVE MANUFACTURING
Additive manufacturing technology acquires significance in the manufacturing industry for enabling product making as end to end solutions without any design boundaries for both manufacturing and assembly. It allows engineers to accomplish more than what they would through traditional manufacturing techniques. Hence many stakeholders in manufacturing industry are increasingly incorporating additive manufacturing technology in their low volume production.
3D printing technology penetrates new horizons, industries are confronted with the primary challenge of employing skilled workforce to use this technology. There is a dearth in finding skilled technicians/engineers having the knowhow of additive manufacturing.
IMTMA, to plug the gaps, considering the roles they are supposed to play in the additive manufacturing industry, has embarked upon training the engineers by handholding them through actual workshop processes on Additive Manufacturing
FOCUS AREAS
Fundamentals of Mechanical Engineering
Drafting standards, Limits, Fits, Tolerance and GD&T
Introduction to Additive Manufacturing
Basics of 3D printing process and machines
Introduction to SLA, FDM, SLM
Introduction Metallurgy, Analysis & Powder management for Additive manufacturing
Design For Additive Manufacturing (DFAM)
Topology Optimization for 3D Printing
Optimization of support for 3D Printing
Optimization of part orientation for 3D printing
3D printing Machine Operation and Programming
Post-processing – Heat treatment process for printed parts
3D part qualification – Metallurgical analysis
Key Take Aways
Additive Manufacturing Technology
Popular Engineering Materials for AM
Part Design for 3D Printing
CAD and Analysis software
Training on 3D printing machines
Placement support for fresh engineers at AM Industry
Participant Profile
Final Year Student & Fresh Graduate Engineers in Mechanical & Mechatronics.
Fresh Hires and working experience from the industry
Faculty
This programme will be conducted by Mr. H V Rajashekara, Senior Director - Design Institute, IMTMA. He has over 30 years experience on Machine design and development from HMT Bangalore and Johnson Electric Group, Hongkong. In addition, industry experts and consultants specialized in Machine Design will be visiting as guest faculty.