| | |
| --- | --- |
| Course Content | Key Take Aways |
| Review of machining operations, engineering drawing, and metrology | Get complete insight into Computer Integrated modern Manufacturing environment |
| Limit, Fits, Tolerances and surface roughness symbols | Understand Engineering Drawing and develop a process plan |
| Geometric Dimensioning and Tolerancing (GD&T) | Develop and optimize NC Programmes for CNC Turning and Machining Centres |
| CNC Programming and CAD/CAM | Do proper selection of tools & cutting parameters for various CNC machining operations |
| Programming & Operation of CNC Turning centre | Reduce cycle time and improve productivity/quality in CNC machining |
| Programming & Operation of CNC Machining centre | Handle measuring instruments and equipment for quality control of machined parts |
| Process Planning for CNC Machined Parts. | |
| Selection of Tooling and cutting parameters for CNC machining operations | |
| Optimization of CNC Programming and parameters for cycle time reduction and productivity improvement | |
| Measurement & Quality Control of machined parts | |
| Soft skills and personality development | |
| Hands-on practice in CNC Turning and Machining Centres | |
| Hands-on practice in measuring instruments | |
| Hands-on practice in Tooling, Work Holding and other accessories | |
| Best manufacturing practices - 5S Concept, Kaizen & Introductions to TPM | |
| Industry Visits for exposure in a live manufacturing environment | |
| Project work, evaluation Tests & Assignments | |
Training in a modern Digital Factory Environment.
Classroom sessions with Industry Professionals.
Engineering Drawing, Process Assessment & Planning.
Simulation using SINUTRAIN and NC GUIDE systems.
Hands-on sessions in CAD/CAM programming systems.
Hands-on training sessions on CNC Turning Centre.
Hands-on training sessions on CNC Vertical Machining Centre.
Real-time machining of components on CNC machines.
Measurement practices on CMM & other instruments.
Industry visits & Project work.
Assessment & Certification.
| | |
| --- | --- |
| CNC Vertical Machining Centre - BFW | Interchangeable Quick Clamping systems - Jergens, Alukeep, Sarda |
| CNC Turning Centre - Jyoti | Shrink fit system/ Holders - Bliz |
| CNC Lathe Simple Turn - Ace Designers | Digital Height gauge - Electronica |
| CNC Co-ordinate Measuring Machines - Hexagon Metrology | TPM trak system for productivity monitoring - AMIT |
| 6 axis Welding and Machine Tending Robot with 2D vision system - FANUC | 5 axis material handling robot - TAL Manufacturing Solutions |
| CAD/CAM Softwares - Cadem, Mastercam | Cutting tools and holders - Taegutec, Komet |
| Cutting fluid and accessories - Blaser | PC based CNC Programming & Simulation Kits - FANUC and Siemens |
| Hydraulic, Pneumatic Training Kits - Bosch Rexroth | Digital/ Air Gauges/ Measuring Instruments - Baker |
| Tool Management System Including Non-contact type tool pre-setter - Zoller | PLC, Servo and VFD Training kits - Mitsubishi Electric, Siemens |
| Touch probe for tool setup & work set up - Blum, Renishaw | Vision Inspection System - Customized Technologies |
| Interchangeable clamping system and Hydraulic holders - Schunk | |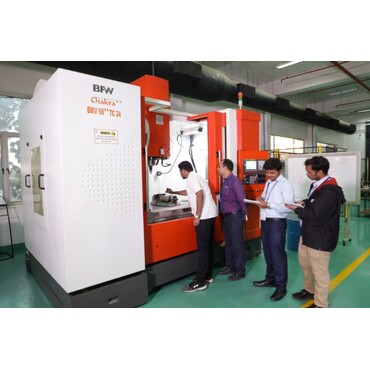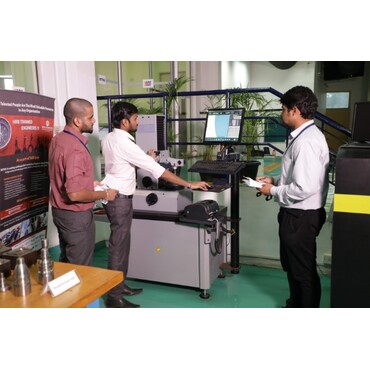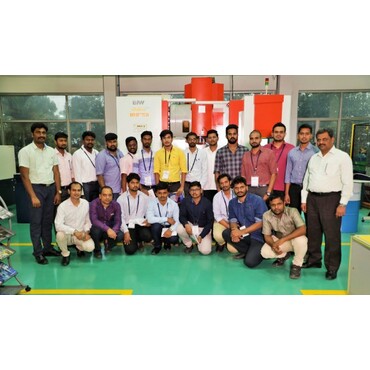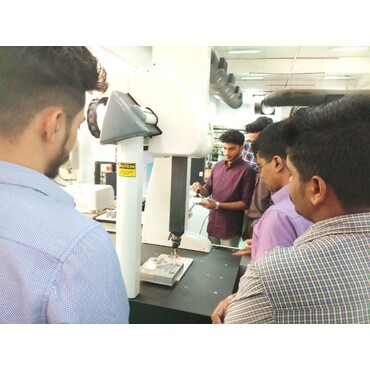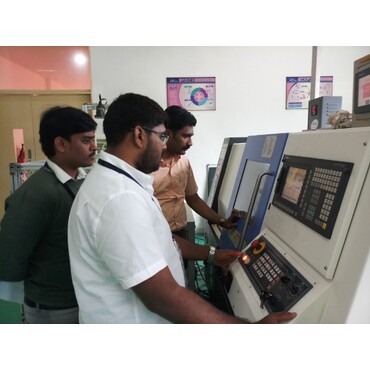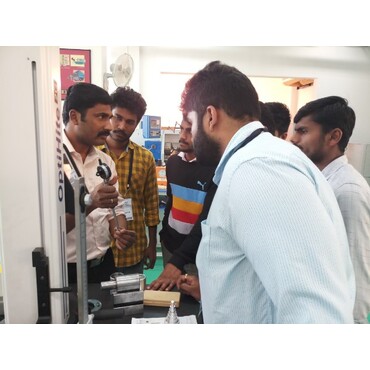 FINISHING SCHOOL IN PRODUCTION ENGINEERING- Making Engineers Industry Ready
18 July to 30 August 2022,
The biggest challenge the Education System faces today is Employability after engineering courses. Even though India has become a choice destination for all Global Players for their various manufacturing activities, fresh Mechanical engineers from colleges lack the practical skills and confidence to meet the prevailing Manufacturing Environment. Today CNC Technologies are being used across all manufacturing Industries and as such modern industries demand adequate knowledge as well as skill in Computer Integrated Manufacturing practices. Keeping this in view, Indian Machine Tool Manufacturers' Association (IMTMA) is organizing an exclusive job-oriented course namely " Finishing School i
The biggest Challenge the Education System faces today is Employability after engineering courses.
This course will enhance the employability amongst the graduate engineers, with the right blend of theory and practical sessions in the latest manufacturing practices. Thus the trainees are well prepared to serve manufacturing industries right from Day One.
Since trained manpower would bring in significant benefits, many industries including Toyota group, Sansera Engineering, Hampson aerospace, UCAM India, Taegutec India, Micromatic Machine Tools, Zoller India, etc., have recruited the trainees from previous batches for various functions viz, Design, Production, Quality, Application, Sales and Marketing, Service, etc.
A partial list of companies where trainees are placed …
Ace Micromatic Group
Bharath Fritz Werner
Blaser India
Carl Zeiss
Festo India
Hampson Aerospace
Jyoti CNC
Kirloskar Toyota Textile Machinery
Makino India
Marposs India
Motherson Automotive Technologies & Engineering
Motherson Techno Tools
Quick Shape
Sansera Engineering
Searock Precision Products Pvt. Ltd,
Taegutec India
UCAM India
Yuken India
Zoller India